Gusto-V-Whey
Gusto-V-Whey is a whey based milk replacer formulated for New Zealand conditions. The product has excellent solubility characteristics. Ingredients have been selected to provide a consistent product with high digestibility and utilisation by the pre-ruminant calf. Intensive monitoring and analysis of ingredients, manufacturing process and finished product underpin the consistent quality as part of the GMP+ quality assurance system, which include HAACP.
Pack Size: 20kg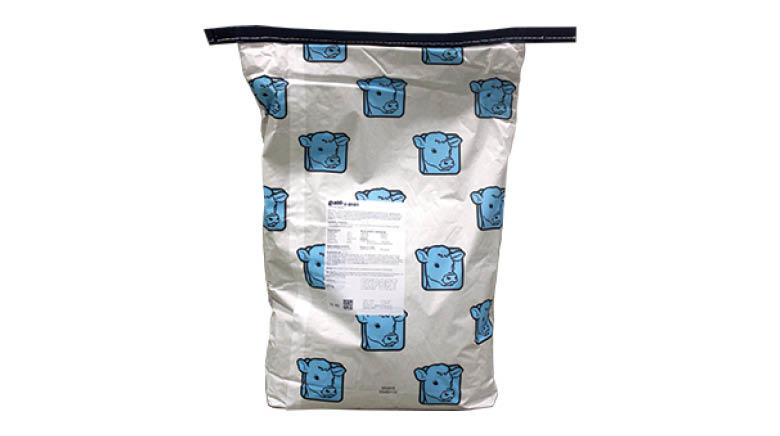 -
Mixing Recommendations
125-150 g per litre, (i.e. add 1 kg Gusto-V-Whey powder to 6-7 litres of water).
Add the required amount of powder to half the volume of hot water (50-55°C) under continuous mixing for at least a minute. Add more water until the total amount of calf milk required is reached.
Check the milk is fed at 38-40°C (optimum drinking temperature).

Gusto-V-Whey also works well in Automated Calf Feeders.
-
Gusto V-Whey can be used successfully in many different calf feeding programmes for calves over 4 days of age, as long as the calf rearer adheres to the basic principles of good calf rearing (colostrum, hygiene, clean water, dry bedding , comfort etc.).
As a general rule, calves should be fed at least 10% of their body weight of Gusto-V-Whey each day. E.g. A 50 kg calf would receive 2 x 2.5 litres with 125 g/liter, i.e. 625 grams of Gusto-V-Whey/day.
In practice under good management and in Once A Day systems Gusto-V-whey can be fed in more concentrated form up to 250 g/litre. 
Find below an example of a Twice A Day (TAD) and Once A Day (OAD) systems and quantities milk replacer used
 System:
 Twice A Day
 Once A Day
 Age (days)
 # Feeds/day
Litres/Feed
Grams/Litre
# Feeds/day
Litres/Feed
Grams/Litre
 1-4
 2
 2
 Colostrum*
 2
 2
 Colostrum*
 5-14
 2
 2
 125
 2
 2
 125
 15-28
 2
 2.5
 125
 1
 2.5
 250
 29-weaning
 2
 2.5
 125-150
 1
 2.5-3
 250
-
Always ensure fresh, clean water and a 20% crude protein calf starter is available at all times
The upper range of concentration (grams/litre) or volume can be used for faster growing calves (e.g. Friesian versus Jersey)
Ingredients 
Whey powder, Vegetable oil (Palm, Coco, Rape, Soya), Skimmed-milk powder, Lactose, Hydrolised Wheat Protein, Soyprotein Isolate  
 Typical Analysis
 Micro-ingredients (added per kg)
 Crude protein
 23%
 Vitamin A 
 25,000 IU
 Crude fat  
 20%
 Vitamin D3 
 4,000 IU
 Crude fibre 
 0.1%
 Vitamin E 
 90 mg
 Crude ash max
 9.5%
 
 
 
 
 Flavour and herbs:
 
  Probiotics:
 
 Herbal Essential Oils
 1,000 mg/k
 Calcium (Ca)
 1.2%
 
 
 Phosphorus (P)
 0.9%
 Organic Acids (Preservative):
 E1700 
 Bioplus YC: 1,280 MFCU
 Calcium formiate & Citric Acid 
 
 (Bacillus Subtilus and Licheniformis)