Gusto V-Gold
Gusto V-Gold is a concentrated milk replacer formulated for New Zealand conditions using dairy casein based ingredients. The product has excellent solubility characteristics. Ingredients have been selected to provide a consistent product with high digestibility and utilisation by the pre-ruminant calf. Intensive monitoring and analysis of ingredients, manufacturing process and finished product underpin the consistent quality as part of the GMP+ quality assurance system, which include HAACP.
Pack Size: 20kg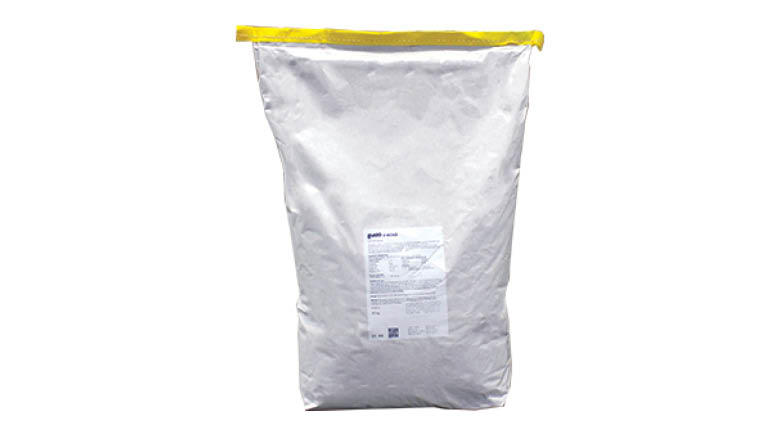 -
Mixing Recommendations
Add 125 to 150 g per litre, for example add 1 kg Gusto V-Gold powder to 6 to 7 litres of water:
Add the required amount of powder to half the volume of hot water (50 to 55 °C) under continuous mixing for at least a minute. Add more water until the total amount of calf milk required is reached. For example, a 20 kg bag mixed at 150 grams per litre would make 133 litres of calf milk.
Check the milk is fed at 38 to 40 °C (optimum drinking temperature)
Weighing the amount of milk replacer is the most accurate method, as using volume (for example, scoops) can mislead.
In the first weeks of life, the size of the abomasum limits the volume (litres) the calf can handle per feed. Too large a volume can overflow over in the rumen which leads to undesirable fermentation as opposed to digestion in the abomasum. 
Many different feeding programmes can work under good management. 
-
Gusto V-Gold can be used successfully in many different calf feeding programmes for calves over four days of age, as long as the calf rearer adheres to the basic principles of good calf rearing (colostrum, hygiene, clean water, dry bedding and comfort).
Ensure the calves are receiving a minimum of 600 grams CMR/head/day and increase gradually to 700 to 900 grams CMR/head/day depending on calf type, growth targets and weather conditions. For example, when a 40 to 50 kg calf receives 2 X 2 litres with 150 g per litre it receives 600 grams of Gusto V-Gold per day.
Under good management and mixing practices, Gusto V-Gold can be fed in more concentrated form up to a maximum of 250 grams per litre. 
Find below an example feeding programme for a Twice A Day (TAD) and Once A Day (OAD) system.
 
Twice A Day
Once A Day 
 Age (days)
 # Feeds/day
Litres/Feed 
Grams/Litre 
# Feeds/day
Litres/Feed
Grams/Litre
 1-4
 2
 2
 Colostrum*
 2
 2
 Colostrum
 5-14
 2
 2
 150
 2
 2
 150
 15-28
 2
 2.5
 150
 1
 2.5
 250
 29-weaning
 2
 2.5-3
 150
 1
 2.5-3
 250
-
Ensure Colostrum, i.e. the first milking of an older cow, is fed for the first day of the calf's life.
Always ensure fresh, clean water and a 20% crude protein calf starter is available at all times.
The upper range of concentration (grams/litre) or volume can be used for faster growing calves
Ingredients
Selected from: Whole milk powder, skimmed-milk powder, lactose, vegetable oil (palm, coco, rape), whey powder.
 Typical Analysis
 Micro-ingredients (added per kg)
 Crude protein
 26 %
 Vitamin A 
 25,000 IU
 Crude fat  
 20 %
 Vitamin D3 
 4,000 IU
 Crude fibre 
 0.0%
 Vitamin E 
 90 mg
 Crude ash max
 8.0 %
 
 
 Calcium (Ca)  
 0.67 %
 Probiotics:
 
 Phosphorus (P)
 0.54 %
 E1700 
 Bioplus YC: 1,280 MFCU
 
 
 (Bacillus Subtilus and Licheniformis)
 Flavour and herbs:
Herbal Essential Oils 1,000 mg/kg